Preschool News: Term 4
This term, the Honey bees are learning all about safety. This week we are exploring how to be Sun Safe. We brainstormed what we already knew about the sun, we spoke about sun burns and learnt what they looked like on the internet. We watched George the Sun Safe Super Dog and he helped us discover what items protect us from the sun. Our second lesson on sun safety led to looking at and comparing different sun safe hats. We learnt that a cap is not a sun safe hat as it only protects the face from the sun but the ears and back of the neck are exposed. The legionnaires hat and a broad brimmed hat are sun safe hats, modelled by our volunteers. We were then given the opportunity to design our very own sun safe hats.
We are also being scientist and investigating reactions, mixtures and change. In week 1 we made paper straws by rolling up strips of paper and securing the end with sticky tape. We experimented with different ways to make the straws and came up with different widths and lengths. It became a challenge who could make the longest straw out of paper. We then used the straws to blow bubbles using a mixture of washing up liquid, edicol dye and water. We used paper to take prints of the bubbles. We were amazed at how big the bubbles became. The next day we had another challenge using the paper straws that we had made. This challenge was how many blows it would take to blow a cup off the table. It was a lot of fun.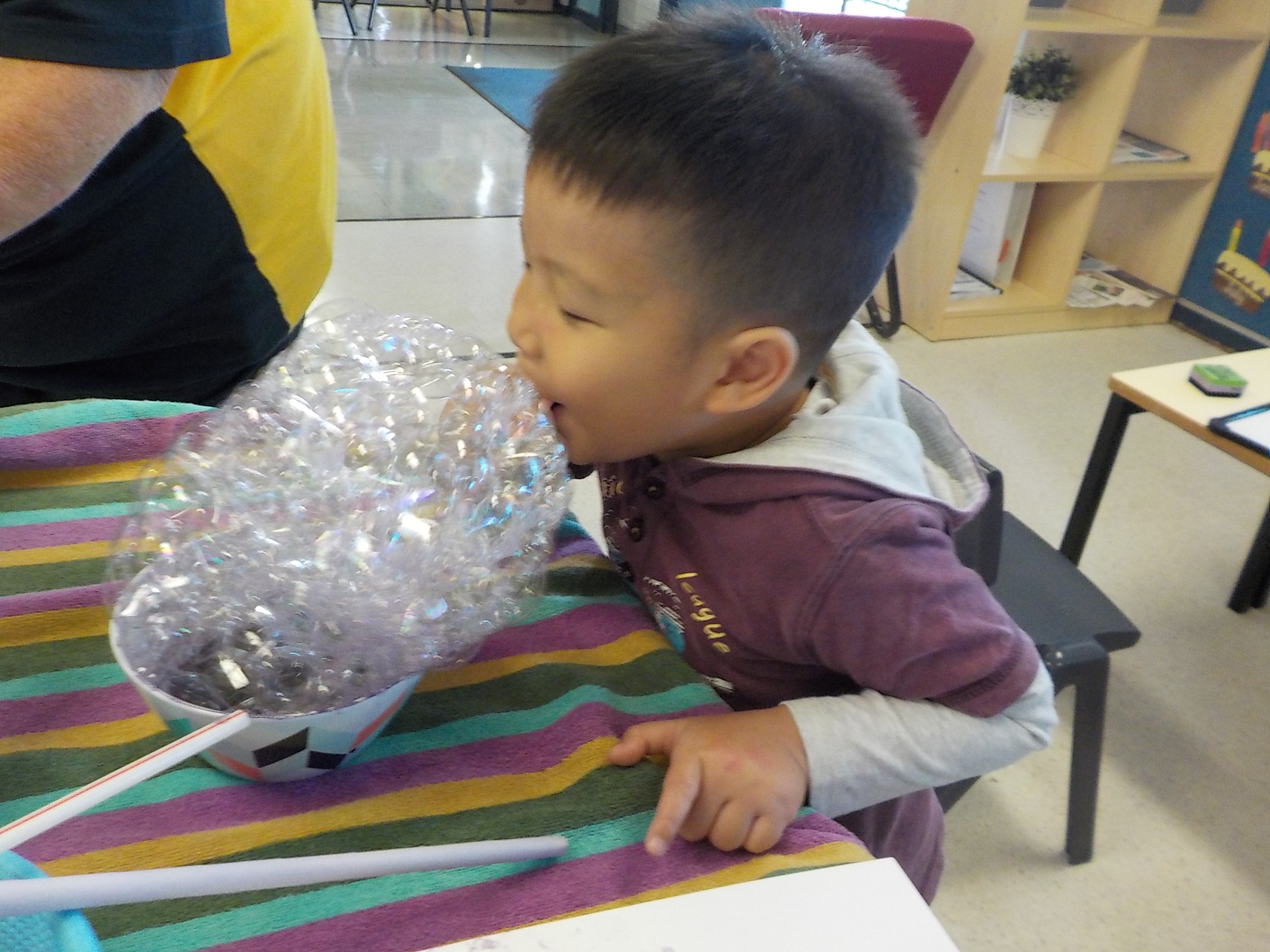 Preschool News: Term 3 
The preschoolers were heavily engaged and in awe of our special visitors at preschool today. We have been learning all about under the sea in our group times. Today we explored three different elements of the sea life and what we might find in each environment; sand, rocks and sea. We looked at and learnt about the many different sea shells and what we might find on the beach. We explored different rocks, seaweed, anemones, sea snails and sea stars. We ventured off into the sea and looked at many different types of animals you will find in the sea… sharks, octopus, squids, prawns and clown fish were among the tables. We also learnt about how to care for the sea, environment and life in the ocean.
Term 3 will be an exciting term for the pre-schoolers. We will be introducing cooking into our program. Last week we started off with something simple and this week we have launched into baking a cake from scratch! It was Mrs Nasrallah's first time baking a cake that didn't come from a packet and for some of our pre-schoolers too. We started off by measuring the amount of butter, caster sugar, flour, vanilla essence and milk was needed. We did this using a measuring cup which the Honeybees are now very familiar with. Step by step, one by one we each had a turn at pouring, mixing, whizzing with the hand mix, cracking eggs and measuring quantities. We are so proud of how well the Honeybee's and Bumblebees listened, followed instruction and best of all they were patient!  The Bumblebee's were learning about the number 2 and made a number 2 shaped cake! I wonder what we will be making next week?
Preschool News: Term 2
Coming to the end of Term 2, the pre-schoolers have been very busy exploring and learning all about Aboriginal Culture leading up to NAIDOC Week. During group time, the pre-schoolers were introduced to the Aboriginal flag. We brainstormed what each colour on the flag might represent. The children used their handprints to make their mark on the canvas to make our very own Aboriginal Flag. We read dreamtime stories like 'How The Birds Got Their Colours'. The story was discussed and the pre-schoolers followed up with a craft activity of putting feathers on their own birds to create many colours and patterns. This week we painted and decorated boomerangs and didgeridoos using traditional Aboriginal colours and dot painting.
During Term 2, we also had an incursion. The Nutrition Magician performed his Magic show about minding your manners and knowing your feelings. The keywords were 'please' and 'thank you'. Our pre-schoolers were learning about happy words and about words that can hurt people in a fun and engaging way. There were bubbles that when caught, became solid, a handkerchief that just appeared, sponge balls that could multiply, teasing wands, coloured ropes that joined together and words that could light up. There was even a drawing that came to life! At the end of the show, there was another visitor who was very cute. He was grey and felt very soft. He was a very well behave rabbit who loved it when we patted him.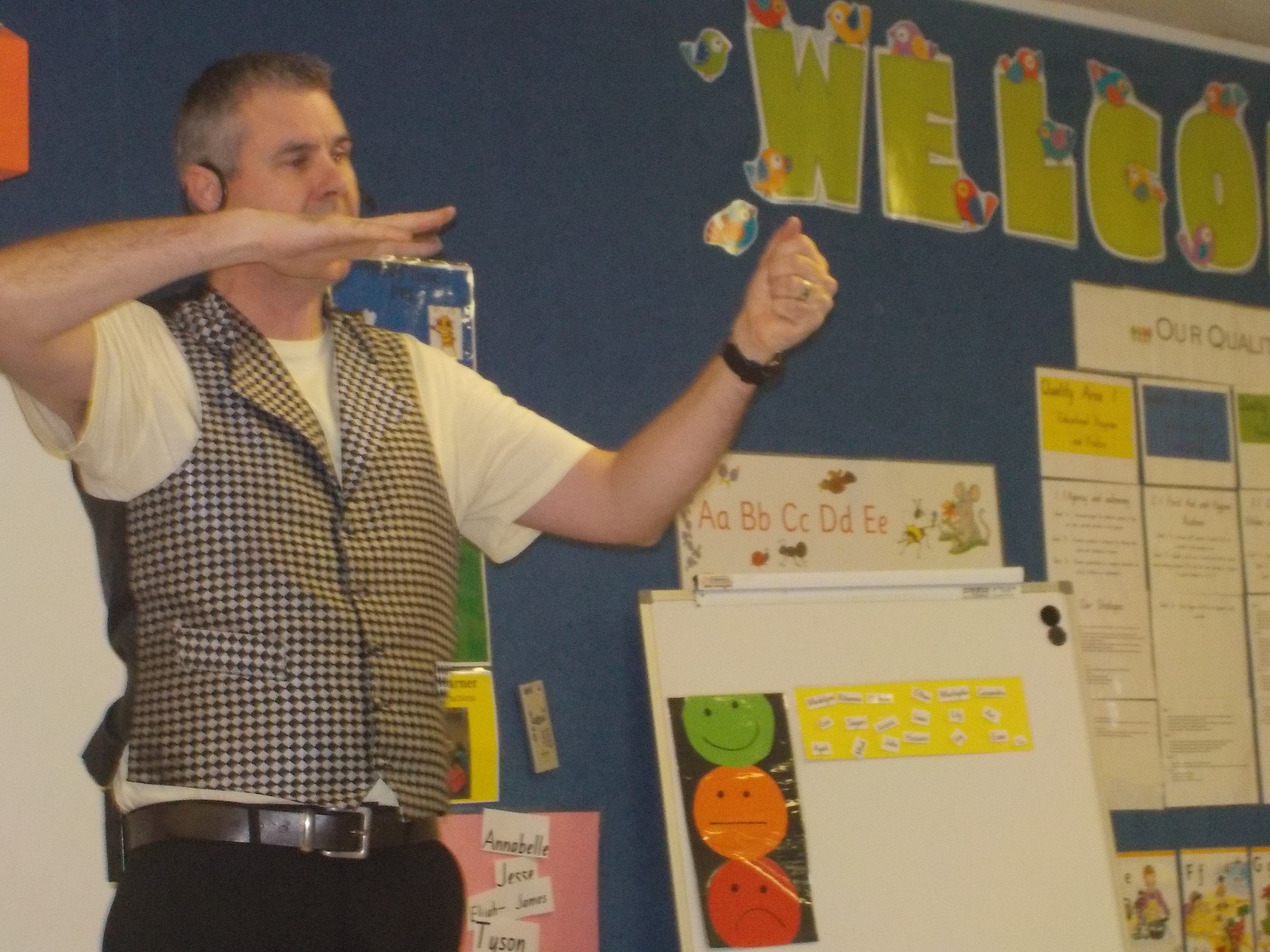 This term in Preschool, the Honeybees and Bumblebees have been exploring their 5 senses, using their new name booklets, building their names with letter cards and discovering dinosaur eggs.
The Honeybees have gotten their hands caught up in all sorts of different textures and are using big words to describe how they feel. They have learnt all about the eye and what eye colour they have. They have been listening to different sounds, experienced the difference between salt and sugar using their taste buds and explored the different properties of taste (sour, salty, bitter and sweet). Amongst all this fun, they have also been learning to hold their pencil correctly and write their names using their name booklets.
The Bumblebees have been exploring the alphabet and identifying what letters they have in their names. We started with letter flashcards capitals and lowercase. The Bumblebees are learning the names and sounds of each letter and are becoming experts at identifying their own letters. Each pre-schooler has their own set of letters for their name which they used to build their own individual names. We placed stickers on top of the letters, laminated the letters and then we traced over the top over and over again to practice our name writing skills. The Bumblebees have their own 'learning to write their own name' booklet which they trace and have a go at writing their name by themselves.
Dinosaurs were an interest in a few of the pre-schoolers before it became a group interest. A lot of children arrive in dinosaur t-shirts and pretend to be dinosaurs. We created a dinosaur area on the verandah. We discussed meat eaters and dinosaurs that ate plants. The pre-schoolers discovered that some dinosaurs were carnivores, herbivores or omnivores. We talked about dinosaurs laying eggs and created frozen dinosaurs eggs. It was exciting to see them hatch. We protected the baby dinosaurs. The pre-schoolers also created a painted dinosaur using their hand print, sticker eyes and textas to draw on the finishing touches. They called these dinosaurs after themselves.
Preschool News: Term 1
Children in Preschool have the wonderful opportunity to visit the library each week. First, Mrs Lynch reads an engaging story to everyone and then the children choose a book to look through themselves. Mrs Lynch has taught the Preschool children how to handle a book carefully and correctly. These children are enjoying their time in the library with a good book.